Heilongjiang Qitaihe Experimential High School
Qitaihe City, Heilongjiang Province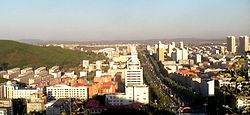 Qitaihe is a prefecture-level city in eastern Heilongjiang province, People's Republic of China. Covering an area 6,223 km2 (2,403 sq mi), it is geographically the smallest prefecture-level division of the province. Qitaihe also has the second smallest population of the cities in Heilongjiang. At the 2010 census, its total population was 920,419, while 620,935 live in the built up area made of 3 urban districts.
Position: Full time English teacher needed

Contract Period: 1st Mar, 2023 - 15th Jan, 2024
1st Sep, 2023 - 15th Jul, 2024
Number required: 1 post

Requirements: BA and TESOL/TEFL qualification
Monthly Salary: 13000 RMB
Teaching Hours: 20 hours per week
Accommodation: a free private apartment will be provided. The apartment includes two bedroom, one living room, one kitchen, one bathroom, air-conditioner, TV set, bed, sofa, fridge and coking utilities. Free internet access.
Age of Students: 16 - 18 secondary school stduents
Insurance: The same treatment as the staff in the school
Closest Airport: Harbin airport
Paid Holidays: 2 days off per week; all public holidays in China; paid winter holiday in Jan and Feb
Air-ticket reimbursement: The school will reimburse 8000 RMB to the teacher the cost of round-trip air-tickets on completion of the one school year contract.