Hunan University of Humanities, Science and Technology
Loudi City, Hunan
Loudi is a prefecture-level city located in central Hunan province, China. It is situated about 110 km (68 mi) southwest of the provincial capital of Changsha and is considered a small to medium size city within the province. According to the 2010 Census, the population of Loudi is of 3,785,627 inhabitants in an area of 8,117 km2 (3,134 sq mi). In 2007, the city is named China's top ten livable cities by Chinese Cities Brand Value Report, which was released at 2007 Beijing Summit of China Cities Forum.
Loudi has an area of 8107 square kilometers (3130 square miles).The western parts of the city borders mountainous regions while the east parts is generally considered hilly with gently sloping topography.
The climate is subtropical monsoon climate with humid weather and four distinct seasons.
The city is heavily dependent on industry. In 2011, Loudi's GDP reached RMB 83.79 billion ($12.9 billion). The biggest contributors come from the secondary industry where industry and construction amount to RMB 46.69 billion($7.3billion USD), 55.75 of the city's GDP.
The city has rich natural resources. Coal mining, dressing, metallurgy, power production and supply, agricultural products processing, ceramics and construction materials are among the major industries of the city.
A brief introduction of Hunan University of Humanities, Science and Technology(HUHST)
Hunan University of Humanities,Science and Technology (HUHST), established in 1978, is a state-ownedprovincial university of higher education approved by the Chinese Ministry ofEducation. It is located in Loudi, a city in central Hunan province. With itsbeautiful scenery, pleasant climate, rich resources, and convenienttransportation, Loudi has acquired a reputation as a Botanical Garden City andone of the most livable cities in China.
HUHST covers an area of some 700,000 m2,including over 350,000 m2 of constructed campus buildings. Theuniversity enrolls students from across the nation. The library of theuniversity has a collection of over 1.2 million books. Currently there are13,120 full-time students, and 7,041 part-time adult students.
Aiming to "build an excellent regional universitywith distinctive characteristics", the university has set the academicdisciplines scientifically, improved the quaility of education, and optimizedcourse structures. Upholding the notion of "putting student education at itscore and serving students first", HUHST is striving to build a harmoniouscampus with great vigor and charm. The university's motto is "Plan for thepresent to attain the future goal; develop a solid foundation to reap greatrewards."
Of its 1126 staff members, 684 are full-timeteachers. Among the capable teachers, three are State Council Experts forSpecial Allowance, one is a member of the state's Thousands Talents Program,five are winners of "Zeng Xianzi Educational Fund Prize", one is chiefscientist in the National Industrial System of Modern Agriculture, and five areIntellectuals of the New Centennial Hunan 121 Project. Moreover, remarkable accomplishmentshave been achieved in the field of academic research. In recent years, HUHSThas obtained eight national invention patents, two National Science andTechnology Awards, and 124 awards concerning "Teaching Achievements", "SocialScience Achievements" and "Science and Technology Progress Award" and has takencharge of 815 national and provincial research projects.
HUHST possesses 16 faculties with 39 disciplines,covering eight comprehensive academic fields, namely Art, Science, Technology,Education, Economy, Management, Law and Agriculture. The university has eightkey disciplines and distinctive courses at provincial and national level, and80 provincial or national centers of various kinds ranging from research, anduniversity-industry cooperative research to teaching practices.
The university has launched all kinds of activitiesconcerning science and technology, culture, and social practice, which haveimproved the educational environment, led to greater student participation andcreated excellent academic atmosphere. Students enjoy the "Three Festivals"(Student Art Festival, Campus Community Festival, and Student TechnologyFestival) which have enriched campus life. With "The Challenge Cup" BusinessPlan Competition as the premier event, the university has extended the way forinnovation and entrepreneurial activities developed in support of a plan toraise students' academic performance.
By encouraging students to participate in a widevariety of competitions related to their chosen disciplines, the university hasenhanced all-round development of its students. In recent years, students havewon 28 first prizes, 39 second prizes and 62 third prizes in national orprovincial competitions. They include the Mathematical Module Competition, EnglishContest, Electric Design Contest, Mathematics Contest, Physics Contest,Chemical Experiment Skills Competition, "Lotus Cup" Dance Competition,Calligraphy and Fine Arts Competition, and "The Challenge cup" Business PlanCompetition.
The university's Physical Education Department hasmany advantages. Dragon and lion dance, orienteering, and women's football,etc. have brought accalim to the university. In addition, the university hasdistinguished itself in the fields of martial arts, acupuncture, massage, etc.The Dragon and Lion Dance Training Center for College Students authorized bythe Ministry of Education was established at our university. The title of"High-level Sports Team of College Students" was conferred by the Ministry ofEducation on the HUHST orienteering and the football teams. The university haswon first prize or second prize in many martial arts competitions, orienteeringcompetitions and football tournaments at national and international level.
Regarding academic research, great importance hasbeen attached to the study of Meishan Culture (the distinctive culture inLoudi), historical figures of central Hunan, and Zeng Guofan (a famous ministerof the late Qing Dynasty), and significant findings have been acquired. Theuniversity places a great deal of importance on the transmission and teachingof traditional cultures and has set up a sinology class. Furthermore, theuniversity has created a calligraphy undergraduate program which is the firstof its kind in the Hunan Province.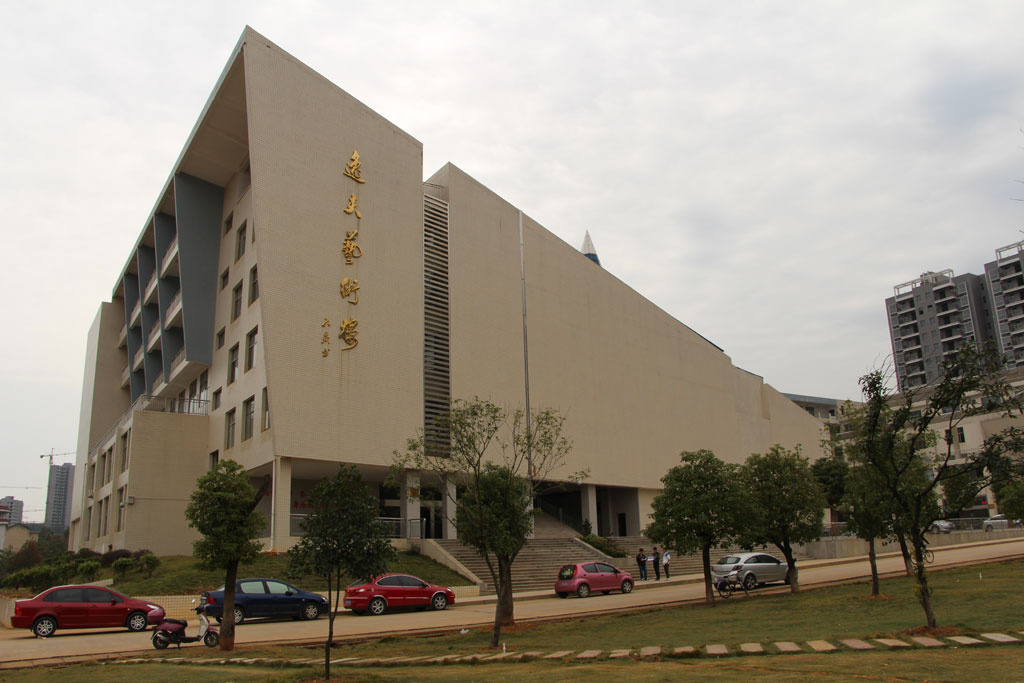 In recent years, HUHST has placed great emphasis oninternational exchanges and cooperation. The university has exstablishedpartnerships in the fields of teaching, academic research and student educationwith many universities in the United Kingdom, United States, Thailand, SouthKorea, India, etc. With the achievements attained thus far, we believe thecollaboration between our schools can be further extended and deepened.
Loudi is ranked as one of the ten most livablecities in China, Botanical Garden City of Hunan and Model City of Hunan. Loudiis also rich in coal, antimony and nonferrous metals. It was the hometown ofmany famous historical figures such as, Jiangwan (prime minister of late Shu inthe Three Kingdom period), Zeng Guofan (a famous minister of the late QingDynasty), Zeng Jize (a famous diplomat in the late Qing Dynasty), Chen Tianhua(a pioneer during the Xinhai Revolution which took place in 1911), Song Xilian(a famous general who fought the Japanese invaders), Fang Dingying (acting principalof Huangpu Military Academy, and patriotic general), Cai Hesen (an early leaderof the Communist Party of China), Luo Shengjiao (International Communist), XieBingying (a famous female writer), Chen Fangwu (a revolutionary educationist),and others. Many famous women were born in Loudi which was also the place wherethe "Hunan Army" originated during the late Qing Dynasty. Finally, Loudi wasthe hometown of Chiyou (one of the Three Grand Ancestors of the Chinesenation).
Loudi is also home of Meishan Culture. Here liesthe beautiful Daxiongshan National Forest Park; Meishan Karst Cave which boaststhe most beautiful geological museum in Asia; Ziquejie Terrace, a miraculouslandscape of rice fields, and the breathtaking Youxi River white-water rafting.The convenient transportation, as well as the beautiful scenery and agreeableenvironment make Loudi a magnificent city.
English teaching positions: 3-5
Requirements:
Position Requirements:
- Native English Speaker or close to, from the US, UK, Australia, Canada, New Zealand and others
- Bachelor's degree or above
- TESOL /TEFL certificate is highly recommended
- Energetic Individuals
- Experience preferred but not required
Responsibilities:
Typical Responsibility (variable by location):
1. Work schedule will be from Monday to Friday
2. 16-20 classes per week, each class lasting 45 mins; 12 teaching hours per week
3. Contract period: 1st September, 2018 to 31st July, 2019 (11 month salary)
Salary: RMB 7,000 or above per month depending on qualification and experience
Benefits:
Paid overtime for teaching
• Paid Annual Leave (winter holiday, all public holidays in China)
• One-year Z working visa
• Health and accident insurance
• Free private accommodation nearby the school
• RMB10,000 airfare reimbursement and other allowance
Internet Access: Computer with internet access both in apartment and on campus.
Others: Free Mandarin Lessons