Guilin Normal College (Guilin, Guangxi)
A Brief Introduction of Guilin Normal College

Being located in the Two-river-four-lake beauty spot in Guilin, a world-famous tourist city, Guilin Normal College is an ideal environment for learning. It is composed of three campuses—Xinyi Campus, Jiashan Campus and Lingui Campus, which cover an area of 1300 squared metres surrounded by mountains and with Osmanthus trees everywhere . The blossoms of Osmanthus trees give off a rich perfume all year-round.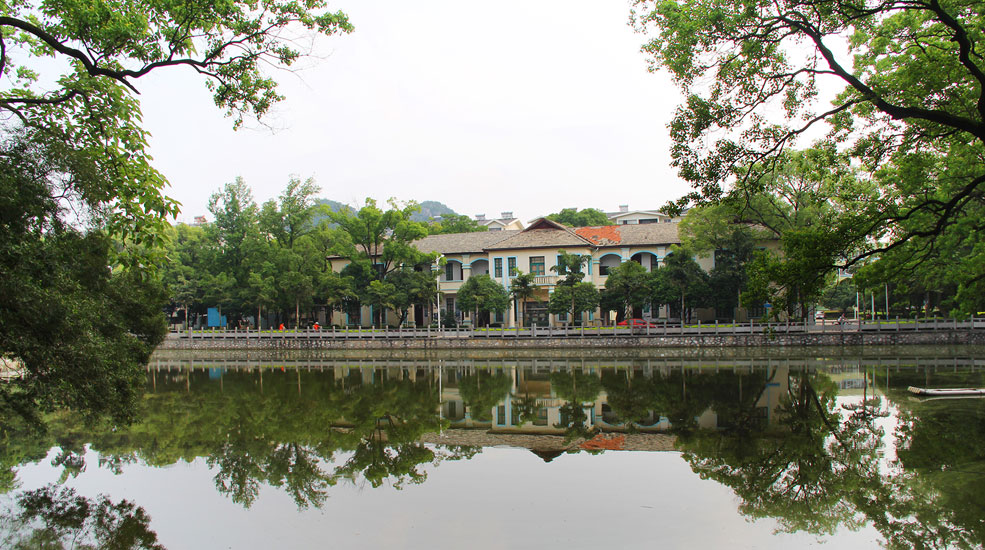 Guilin Normal College(GNC) was developed by Guangxi Provincial Teacher Training School in 1938 with a glorious history of 70 years. It is known for its unique contributions to elementaryteacher education and training, and is honored with the Executive Agency of National Preschool Teacher Training Program.It is a major teacher training base of Guangxi, with elementary principal and preschool lead training. Up until now, more than 100 alumni have been awarded titles of super-teachers and academic leaders of elementary education. As a comprehensive college with nine departments, GNC offers 11 specialty classifications included 45 specialties of liberal arts andsciences, general studies and humanities. Here is the list of the 11 specialty classifications: Cultural Education, Media Art and Design, Biochemistry, Pharmacology, Electronic Information Technology, Finance, Tourism, Human Services and Law, Energy and Materials, Civil Engineering, Agriculture and Forestry,Animal Husbandry, and Fishery. We currently have students from 21 provinces around the country. At present, the existing full-time student population is 6,441, and the employment rate of GNC graduates is above 85%, both of whichmaintain their leading position in Guangxi.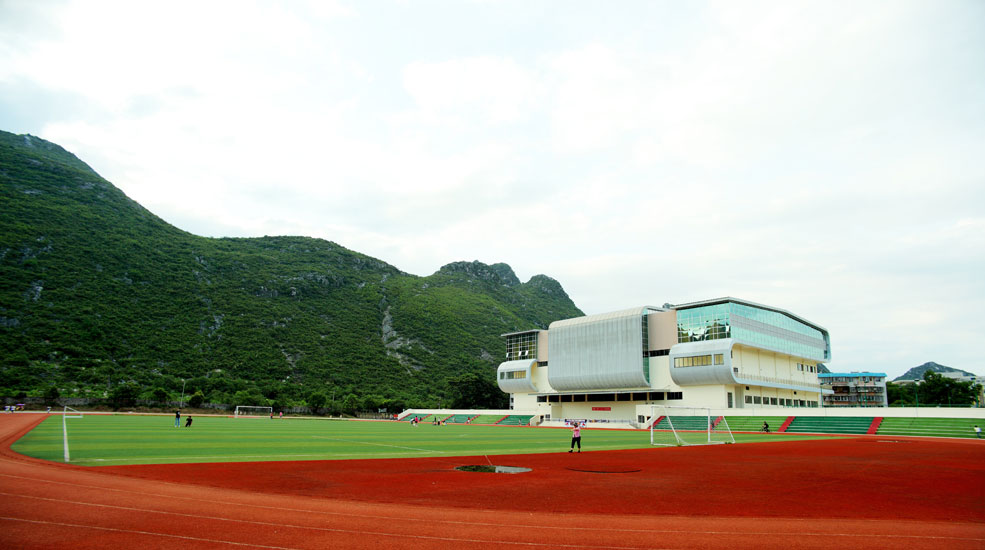 The college is well equipped withadvanced teaching facilities worth over 36.8 million RMB. The College Library owns over 1,184,500 volumes of books, including 687,000 volumes of e-books. Altogether the faculty and staff have 482 members, among them, 313 are full-time teachers. Teachers with high or intermediate titles of technical post account for 78% of all the full-time teachers. In addition, GNC has been periodically employing part-time professors and overseas teachers to work for its temporary needs.GNC has nine faculties, including Studies of Chinese & Literature, Department of Political Science and Economics, Department of Foreign Languages and Tourism, Mathematics & Computer Science, Physics &Communications Technology, Chemistry & Engineering Technology, Music & Performance, Fine Arts and Educational and Public Administration. Besides the above-mentioned, GNC has 6 teaching service departments such as Division of Social Science, Public PE Division, Public Art Education Division, Computer Science Division for non-major in Computer Science and English for non-English majors. All the above faculties and departments involve 42 major courses specialized for college education.

Succeeding to the spirit of invigoratingly learning by art is the belief initiated by Mr. Tang Xianzhi, the first president of this school. And The success of the school is dependent on the advancement of the art departments. GNC has widely received the mission statement "Being learned with wise thought and repeated practice with noble moralities" as the general direction. Among the similar colleges in Guangxi, GNC took the lead to specialize its music and art majors as key specialties and has gained great achievement. Music and Fine Arts, two faculties founded in 1985,now have become main bases in Guangxi for training foundational music and art teachers.GNC is on the rise to be an intellectual support to the economy and cultural development of local societies.

The "Zhu Jiang Cup" piano competition is held every two years by the Ministry of State Education, has been regarded as a teaching quality assessmentof music education. In the year 2004,2006 and 2008, GNC was chosen and sent as the representative of colleges in Guangxi to attend the third, the fourth and the fifth "Zhu Jiang Cup" piano competition for the event of five powerful skills of music teaching. Through a series of contests, GNC successively won one second place prizeand two third place prizes,which contributed to the good reputation of Guangxi colleges.

In the year 2005 to 2006, the students of the college attended the National English Speaking Competition (College Student section) and CCTV Speech Contest, some participants won the special awards inclusively the first prize. For the National College Student Mathematical Modeling Competition. GNC participants won many second and third place awards for years.

GNC attaches importance to the work of language standardization and gained excellent results. In the year 2004 and 2007,GNC won the titles of "the Regional Model Collectivity for Language Standardization" twice and the title of "State-level Model School for Language Standardization", which made it a good example in the standardization of language in Guangxi.

On the 8th of September 2008, GNC was approved as an "excellence-rank school" of colleges and high vocational schools by the Education Hall of Guangxi Zhuang Autonomous Region. Taking advantage of opportunities as well as facing new challenges, all the teaching staff and students of GNC are trying every effort to make a better future, aiming at larger contributions to the foundational education and economic development of the local societies for Guilin and Guangxi.

You are sincerely welcome to come visit Guilin Normal College!
Position: 2 oral English teachers
contract period: 1st Mar, 2023 - 15th Jan, 2024
1st Sep, 2023 - 15th Jul, 2024
Salary: 9000RMB or above /per month
Workload:16-20 sessions/per week
Flight: round way international airefare
Medical allowance provided
Holidays: Public vacations and winter and summer vacation with salary.
Accommodation: free apartment on campus with free Internet,water ,gas and electricity with cooking utensils provided