Nanning Jun Wu Primary School
Introduction to Jun Wu Primary School

Jun Wu Primary School, attached to the Guangxi University and located on the long-established and beautiful Guangxi University campus, is a private boarding school with long history and elegant environment. Since its foundation in 1946, it had been named as "the Attached Primary School to the Guangxi University" till 2009 when it was renamed as "Junwu School". Our new teaching building was completed in 2013. We are planning to build the complex building and student apartment buildings. Our school is equipped with modern educational facilities and advanced educational management.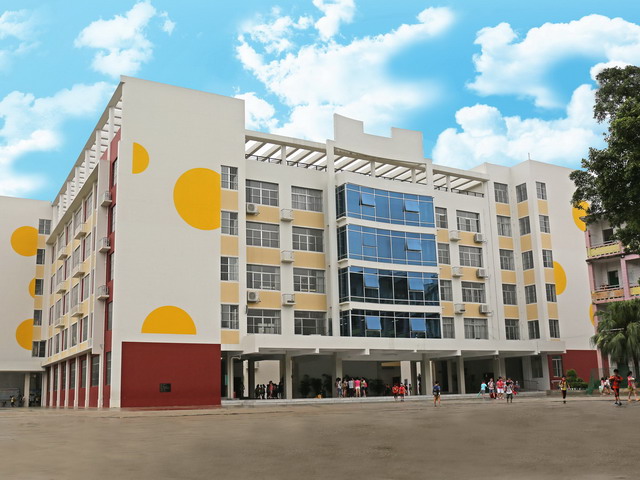 At present, the school has a total enrollment of over 1800 in 40 classes, including 800 boarders. There are more than 160 teaching staffs in this vigorous and innovative teaching team, including one "National Outstanding Teacher", two "Provincial Special-grade Teachers", three "Provincial Excellent Head Teachers", one "City Teaching Star", three Academic Leaders and thirty "backbone teachers". The whole staff members have been making joint efforts to create a favorable atmosphere. We are keen on teaching, love teaching and find pleasure in teaching, and We are hardworking; enjoy learning and keep learning broadly. So let us help you!
The school has fist-class qualities of teaching. The school was initially identified as one of the key schools that build brand characteristics by Education Bureau in 2005. Its teaching research on Works of Art and Multidisciplinary Integrated Compositions enjoys great popularity inside and outside the region. In recent years, the school has made satisfyingachievements on educational teaching, scientific research and management. Our school has been entitled as the Excellent National Experimental School of Development and Innovation, Advanced Research School in Nanning City, Science Demonstration School in Nanning City, the top Ten Literature Society of Guangxi, Young Writer Association in Guangxi, and our boarding school cafeteria also won the Excellent level of catering food in Nanning City.
In the spirit of "Love-oriented teaching, focusing on improvement, and developing character" and the goal of "cultivating students with world vision", under the new leadership of board of directors in October, 2013, Jun Wu School is making great efforts to develop global education and imports the most advanced pedagogy in the world to our students and teachers. From 2013 to 2014, we've established the cooperative relationship with several famous schools of BC province in Canada. Our school has adopted the small-class teaching since 2014. We are devoting ourselves to building an English Teaching brand and employing qualified foreign teachers and the best teachers in every subject for the small- class teaching. With advanced teaching methodology and scientific management, we strongly believe that we can accomplish our ultimate goal-Making every student grow up happily and have a sound development. Jun Wu School will definitely do well in the educational reform and contribute to the great success of our country!
Teacher needed: 2 posts
Contract period: 1 Mar, 2019 to 31 Jan, 2020
Requirement: bachelor degree + TEFL cer and some teaching experience preferred
Salary: RMB 9000 - 15000 according to qualification
Workload: 30 sessions/week (30 minutes/session)
Holidays: all public holidays in China; summer and winter pay
Accommodation: free shared furnished apartment on the campus with free internet access, utilities; free meals at canteen
Medical: medical allowance provided
Airfare: round-trip airtickets reimbursement
Visa: China Z-work visa provided