Chongqing Bachuan International High School(Chongqing)
Chongqing city is a well-known city with a history of more than 3000 years. It is the famous historical and cultural city in China. Chongqing is the birthplace of the Bayu Culture. At present, Chongqing is a municipality directly under the Central Government with the largest area, the most administrative districts and the largest population. The original area of the whole city is 82,000 square kilometers, governing former Chongqing, Wanxian, Fuling cities as well as 43 districts, cities and counties in the Qianjiang Region. Chongqing has a population of 30,020,000, most of them are of Han nationality. 49 other ethnic minorities, such as Tujia, Miao, Hui, Man, and Yi also live here but retain their own traditional customs. The colorful local customs have already become an important tourist attraction in Chongqing.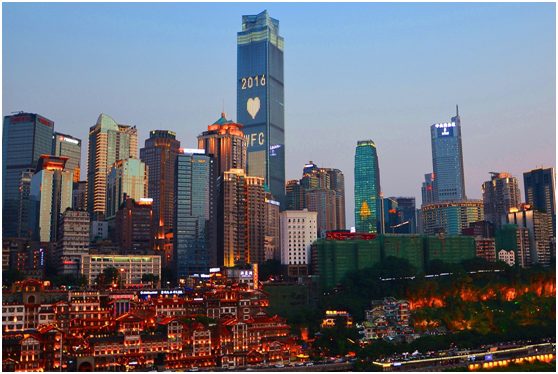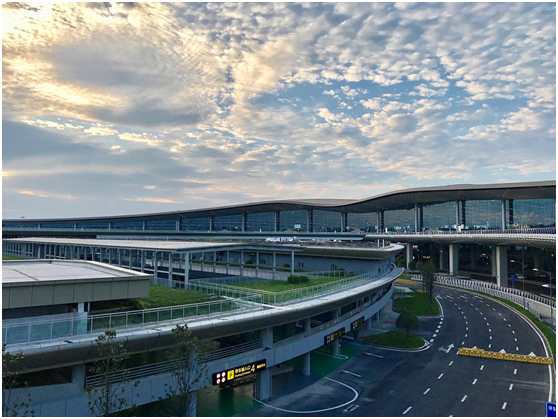 Chongqing has many attractions: cityscapes, mountains, revolutionary sites, cultural relics, parks, scenic spots, and natural beauty. The city offers a variety of choices for the visitor: from meetings and exhibitions, to sightseeing, shopping, dining and entertainment. Chongqing is variously known as 'foggy city', 'mountain city', and 'furnace city'. The central urban area of Chongqing is wedged between the Yangtze River and the Jialingjiang River, surrounded by hills and mountains. With green hills and clear waters, the scenery is unique. Buildings are massed in picturesque disorder near the mountains and at the rivers' edge. From a vantage point at night, one can see a myriad of glittering lights, contrasting pleasantly with clear glistening lights from the waves of two rivers and flashing stars all over the sky. This combination makes for a magnificent scene.
Bachuan International will gain international recognition for its globally integrated and innovative program that provides first class facilities and a faculty who is devoted to educating global leaders in 21st century competitive and communicative skills through both traditional academics and inquiry/project based curriculum.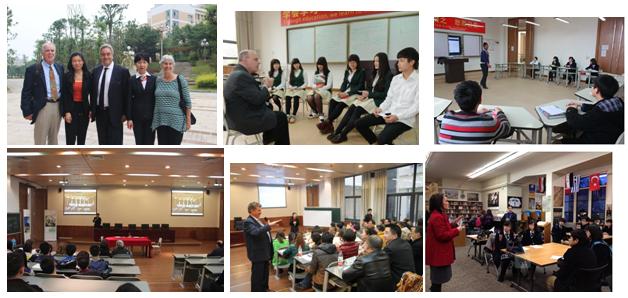 Mission
To create a landmark educational system for lifelong learners to develop bilingual communication, collaboration and a strong sense of social responsibility that will lead to the rejuvenation ofChinaand a peaceful world.
Core Values
Through the integration of Chinese and Western
systems of education our staff will work as a
team to focus on student centered education.
Curriculum Program
We have introduced the premium high school curriculum resources. We have integrated the national curriculum standards and common core state standards into a mixture of optimum course, properly arrange the academic schedule to offer students advanced high school education. Once the students finish the compulsory courses and sufficient electives, they can gain credits accordingly and achieve the high school diploma from Chinese government.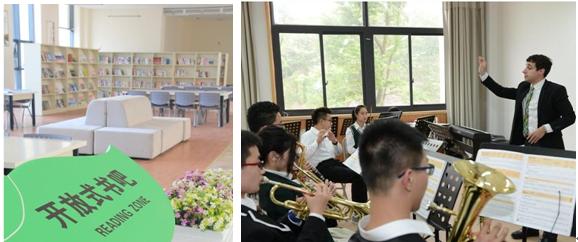 We have made a graduation credits schedule and customized education plan for students individually. This course system states the compulsory courses and the corresponding contents students need to master, and map a clear goal for them. Teachers need to know students characters of study and
development on knowledge, sentiment, and social skills, assist all the students to reach the academic goal. Special support will be given to those higher or lower students.
The school makes a plan on teachers professional development, and guide the teachers to make their own. Teacehrs can observe and comment each others' class, prepare lessons together, hold academic seminar, etc., to seek for chance to cooperate and improve teaching ability.
Our teacher evaluation system consists professional evaluation which is the main part, and students, parents, peers participation. We have monthly evaluation, semester evaluation, professional evaluation, self-evaluation, peer evaluation and evaluation from students and parents. All these can help our teachers progress.
We have smartboard and computer available in the classroom. Teachers are familiar with the utilization of these technilogical teaching resources. We equip each student a laptop and guide the students how to use laptop to assist study. So that, in-class or off-class, all e-resources can be available.
The assesment of students' acquisition is based on the goal of teaching. This assesment is systematically applied to each subject of each grade to confirm that students are eligible to get promotion. And the assessing result will also be an evidence of modify or enlarge curriculum to guarantee the on-going improvement.
We will strictly record students' performance at school and communicate with their parents regularly. Every teacher has the accurate records of students in-class performance, habits, homework, etc. , and regularly share this information with parents.
The school will carefully and permanently keep students' records and transcripts. Even after a student transfers to another school or graduates, the information will kept for at least another 5 years. So, their parents and guardians can get the information whenever they want.
To improve the credibility of academic assessment, we also introduce the authoritative external assessing system. Students will take Chinese standardized tests organized by Chongqing Education Commission to pass the Chinese courses, TOEFL/IELTS test to gain language qualification certification, and standardized tests offered by WIDA, a company specialized in test generating and providing, to pass theUScourses. Those excellent students can enter GAC program and take ACT test.
Quality Monitoring
To raise the level of our school, increase its social influence and popularity, we launched the accreditation from AIAASC(American International Accreditation Association of Schools and Colleges) to comprehensively upgrade school's level based on the 5 standards and 46 indicators.
We also cooperate with King's School, St. Paule School, and several other private schools, learning from their experiences of quality monitoring.
We signed an agreement with Pearson Corporate to introduce its question pool and database to support ourUScurriculum.
School's Development
In the following five years, we plan to construct a new independent campus of the world advanced elementary education. We are going to open grades k-12, totally 2600 students and build a complete elementary education system.
The construction and infrustructure expenditure is funded and devoted by the New Open Group. The property and the developmental merits and the ownership belong to the school. We will also bring in the world advanced education philosophy and resources, recruit teachers and students globally.
We will learn from other international cases, positively explore the sustainable way of development. Besides the tuition fee charging, we will also organize funding and marketizaiton management of the non-educational programs to financially support the school operation, improve staff's treatment and offer subsidies and scholarships for studnets.
Modern Science and Technology: include the Internet technology, energy saving technology into the campus construction. Cooperate with universities and enterprises to build labs of research and teaching.
HUmanistic Concern: care people's demands, create a comfortable working and living environment. Avoid all the dangerous factors and have the designing of aesthetic features.
Full-time English teachers needed
Number required: 2-3posts

Contract Period: 1st Mar, 2023 - 15th Jan, 2024
1st Sep, 2023 - 15th Jul, 2024
Requirements: BA and TESOL/TEFL; Some teaching experience preferred
Monthly Salary: 11000 RMB - 15000 RMB
Teaching hours: 25 classes per week; each class/45-50minutes

Travel allowance: 1100 RMB per semester
Paid Holidays: 2 days off per week; all public holidays in China; paid winter holiday in Jan and Feb
Air-ticket reimbursement: The school will reimburse the teacher the cost of one way airfare on completion of the one school year contract.