Tongling University(Anhui)
Anhui Province lies in the hinterland of Yangtze Delta where there is great economic development potential. The Province covers an area of 139,600 square kilometers. The population of Anhui province reached 66.75million by the end of 2007. Anhui has 16 main cities, namely Hefei, Huaibei, Suzhou, Bozhou, Bengbu, Fuyang, Huannan, Chuzhou, Liu'an, Ma'anshan, Wuhu, Xuancheng, Tongling, Chizhou, Anqing and Huangshan. Tongling is in the south of Anhui Province and lies on the southern bank of Yangtze River. Tongling has been famous as a beautiful mountain city since its origins in the Han dynasty over 1500 years ago. Owing to its copper and tin deposits, it was an important center in the past for bronze production Tongling University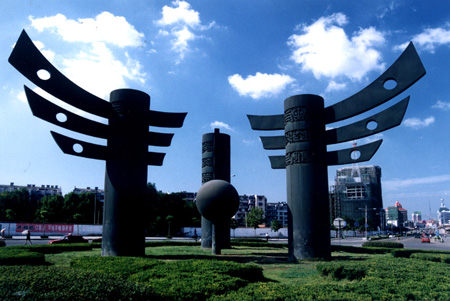 General Introduction to Tongling University
Tongling University is a provincial multi-disciplinary full-time university focusing on the specialties of economics and management with harmonious development of engineering, science, arts, law and other specialties. The university is located in Tongling City of Anhui Province, the "Ancient Bronze Capital of China" and a famous ecological city with mountains and waters. The city is one of the cradles of the bronze culture of China and a regional transportation pivot on the south bank of the Yangtze River.
The university covers a total area of 1,328 mu (about 885,357 m2)with two campuses: Cuihu Campus, the main campus located in the center of Tongling Economic Development Zone, and Yuxiu Campus, the old campus situated by Middle Beijing Road, a cultural and commercial center of Tongling City. At present, the university employs 778 staff members, among whom 629 are full-time teachers, 191 own the title of professor or associate professor and over 500 hold master's or doctoral degree. It has an enrollment of 13,018 full-time students and 1822 of adult education. The library of the university possesses a collection of 800,000 volumes of books and 1,500 kinds of journals in Chinese and other languages. The total floor space of buildings in the university is 335,000 m2, which are equipped with teaching facilities and equipment valued at70million Yuan all together.
The University consists of 12 academic departments with 34 bachelor-degree specialties; other teaching departments include Physical Education Department, Modern Technological Educational Center, Continuing Education Institute and several research institutions like Anhui Engineering and Technological Center of Optoelectronics Application, Education and Teaching Research Institute, Regional economy Research Institute, Bronze Culture Research Center, Bronze Sculpture Research and Development Center, Nonferrous Metals & Processing Engineering Research Institute, Rural Economy and Culture Research Center, Modern Financial & Accounting Research Center and etc. Its academic publication is Journal of Tongling University.
The university is an important training center in Anhui province for cultivating finance-related and economics-related personnel, and has developed its own special methods in running financial and economic education. Two specialties, Accounting and International Economics and Trade, are national characteristic specialties. Eight courses including Management, Cost Accounting and Taxation Law are assessed as provincial excellent courses. The Laboratory on Accounting Practice and the Automation Engineering Experimental Center are appraised as provincial model experimental and teaching centers.
In order to adapt to the globalization of higher education, Tongling University has carried out various projects aimed at international exchange and cooperation and officially established cooperative relations with universities in the U.S, UK, Argentina, Australia and Taiwan district in China. It has also established Anhui Spanish Training Center in collaboration with University of Buenos Aires in Argentina.
English Teachers Number required: 1-2 Posts
Contract Period: 1st Mar, 2019 - 31st Jan, 2020
Requirements: TEFL and two years teaching experience preferred
Monthly Salary: 6000- 6500 RMB
Teaching hours: 16 classes per week / two days off per week
Age of students: 19-20 years old
Accommodation: provide good accommodation, telephone, air-condition
Medical Insurance: The same treatment as the colleagues in our school
Paid Holiday: Two days off per week on Saturday and Sunday; one month winter holiday in Jan and Feb; public holiday in China
Work permit : The school will provide work permit for China at no cost to the teacher.
Air-ticket Reimbursement:
On completion of a school year contract, a round way air-ticket reimbursement will be made maximum 8000 RMB
Travel allowance: 2000 RMB per year
Closest Airport: Hefei Airport