Sanya City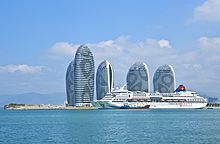 Sanya is situated on the southernmost tip of Hainan Province, lying between 1809′ and 1837′ latitude giving it the tropical monsoon climate of this region. Covering an area of 1919.58 square kilometers (about 741 square miles) with 209.1 kilometers (about 130 miles) long coastline, Sanya has many natural advantages. Possessing a number of excellent harbors, Sanya is an important port for import and export of trade with foreign countries. Therefore, Sanya is also named the 'South Gate of China' to stress its importance while it plays a vital role in the life of the southern part of China in areas of the economy and politics to transportation. However, for most visitors, Sanya is a noted tourist resort with mountains, sea, river and city. The favorable climate is hot in summer but warm in the three other seasons so attracting large numbers of followers from both home and abroad every year. The whole of Sanya is related to the sea. Here you can enjoy a unique tropical oceanic landscape that is totally different from the other provinces of China.
Sanya Bay, Dadonghai and Asian Dragon Bay all golden seaboards of Sanya, are some of the first choices for visitors to spend their holidays. Instead of a busy and exhausting journey, you can relax totally here by strolling along the beaches and breathing the fresh air. If you are an enthusiast of exciting water activities, Wuzhizhou Island is your place to challenge the mysterious and changing sea. Additionally more than 20 ethnic groups including Han, Li, Miao, Hui inhabit Sanya becoming a wonderful place to appreciate the various cultures of China. Tasting the local dishes is a must on your journey. Sanya never shirks in its efforts to entertain its guests with a variety of seafood and delicious tropical fruits all the year round. Both of the star-rated hotels and a number of roadside booths serve the freshest seafood. Shopping is also a must on your journey, so don't forget to choose some sea products and beautiful decorations for you or your friends and relatives back home. Along with the developing economy of this region, Sanya has become much easier for visitors to reach where domestic and international flights can take you in the shortest time. A journey by train and ship will take you a little more time but give you more opportunity to enjoy the natural beauty around you. With good quality, star-rated hotels and reasonable hostels distributed everywhere in Sanya and waiting for you, there is no need to worry about accommodation.
Brief Introduction of University of Sanya
The University of Sanya is an independent college authorized by the Ministry of Education and sponsored by Mr. Li Shufu, chairman of Geely Holding Group. Within easy reach of mountains and sea, the campus is located beside the Luobidong Cave Site, a famous palaeoanthropological cultural relic, on Yingbin Road in Sanya, Hainan Province. The College has eleven schools, offering 45 undergraduate majors. Since its establishment in 2004, the College, taking "To Better Equip Students for Society in the Future" as its mission, has kept developing steadfastly at a high speed by innovating constantly and forging ahead aggressively with the support of the Hainan Provincial and Sanya Municipal Governments. Today, the College accommodates a student population of nearly 20,000. The College campus covers an area of 200 hectares, with a total floor space of more than 40 thousand square meters. It has modern teaching and living facilities including a hotel offering the services of accommodation and conferences, an arts center, a high-tech library, two standard swimming pools, a golf driving range, stadiums, as well as basketball, volleyball and tennis courts, etc. These facilities, with an investment of more than 1 billion RMB in total, can fulfill the needs of more than 20,000 students to study and enjoy their life on campus. The College is under the leadership of a dynamic administrative team whose members are experienced in conducting higher education. Dr. Lu Dan, the Executive President and Secretary of the Communist Party Committee of the College, has an in-depth and accurate understanding of the special national conditions and the development trends of the Chinese society in transition. He also has undertaken thorough research into the regular development patterns of domestic colleges and universities, which share some common qualities with the advanced modes adopted by higher education at the international level. In accordance with the characteristics of those modern colleges and universities, being large-scale hybrids, he implements a distinctive management style which he terms "Tension Management." Taking the opportunity of implementing the higher education and meeting the segmented market demands for talent types in a society in transition, the College carries out a talent fostering strategy in line with the "Practicability-oriented" market demand for competitively pragmatic personnel and the "Trans-achievement-oriented" requirements for the all-round, sustainable and "upgrading" development of human resources with healthy personality. The College has revised its teaching programs and carried out a reform in its curricula, strengthening students' skills of mastering three communication instruments: foreign languages skills, computer skills and practical writing skills in Chinese. The College implements "Three-Tier Internship", setting up a system of training at different stages and levels and of retraining for employment before graduation in order to equip students with professional knowledge and skills which are "useful, available and adaptable". The College has intensified its efforts in the construction of general politics courses, and cultural development both in the class and in the dormitory, and bridges students' activities on and off campus. The College enables the students to accumulate valuable knowledge and skills involving a better understanding of the special national conditions, the developmental trends of our society, good manners and approaches to communication. The College strives to cultivate students to be application-based and pragmatically advanced professionals with creative ideas and abilities both in learning and practice.
Located in Sanya, the College, nevertheless, has a far-reaching vision of the global market demands for talent. Its advanced educating principles have taken shape through bringing in outstanding educational philosophies, concepts and methods, as well as textbooks and faculties, from developed countries in Europe, North America, etc. Sanya College emphasizes making full use of the great heritage of traditional Chinese culture, and takes the historical opportunity of China's peaceful reinvigoration to increase international cultural exchanges. The College attaches great importance to communication and cooperation with internationally well-known colleges and universities and vigorously explores new patterns of joint education. Since the establishment of the College, more than twenty world-famous foreign universities have taken the initiative to approach us for cooperation negotiations. In the years 2007, 2008 and 2010, the "Sanya Forum on Chinese-Russian Education Culture", the "China-Germany Forum on Vocational Education" and "The Construction of Hainan International Tourism Island, The Talent Strategy Forum" were successfully hosted by the College and were praised highly by Russia's Ministry of Culture, Germany's Ministry of Education and China's Ministry of Education. In the five years after its establishment, the College's educating concept and fostering model have been generally recognized. Because of the high efficiency of its setting up, its brilliant ideas on development, and its initial achievements, the College has attracted great attention from the Ministry of Education. When they inspected the College, the Vice Minister of MOE, Chen Xiaoya, the previous Minister of MOE, Zhou Ji, and the Vice Ministers, Zhang Xinsheng, Wu Qidi and Zhou Yuanqing, all expressed positive attitudes toward the College's strategic ideas including its fostering concept "To Better Equip Students for Society in the Future", the "311" curriculum system, the cultivation of 5 abilities, the intensification of the construction of disciplines with distinctive characteristics, and its developing of new and distinctive disciplines to meet the needs of the development of new industries and the boom of Sanya City. They also paid special attention to and expressed appreciation toward the College's efforts to maximally improve graduates' abilities for employment and their potential in further development. Professor Wang Chunshan, an expert in assessment of new programs in the Ministry of Education, made the following comments: "What a rapid speed of development for Sanya College! It is a miracle in the history of higher education!" Wei Liucheng, the Secretary of the Hainan Provincial Party Committee, inspected Sanya College three times and twice met Mr. Li Shufu and Dr. Lu Dan. He praised them by saying that Mr. Li Shufu had made a significant contribution to the people of Hainan and what Dr. Lu Dan had done had benefited the Hainan people a lot. After being listed as "No.1 Government Accountability Project" among Hainan Provincial important projects in 2005, Sanya College has again been included among the priority projects of Hainan Province in the 11th Five-Year Plan. Upon his inspection of Sanya College in January 2009, Mr. Zhang Baoqing, the Chairman of China's National Higher Education Accreditation Committee, the Ex- Vice Secretary of the Party Group and the Ex- Vice Minister of China's Ministry of Education, made the following comments: Sanya College had "an up-to-date concept of designing,
" "The campus design is people-friendly", and "What I saw is beyond my imagination." He also mentioned that "The campus is as beautiful as a picture. The College should definitely have a brilliant future." Upon his visit to Sanya College for research into higher education reform in February 2009, Ms. Yan Junqi, the Vice-Chair of the NPC Standing Committee and the Chair of the Central Committee of the Democratic Progressive Party, made the following comments: "The leadership of the College had an in-depth understanding of higher education and regulations. They had a definite target for education reform and a clear mind on how to reach this destination. Their achievements were significant. Compared with conventional public colleges and universities, Sanya College had made full use of their own advantages and of the reform and opening up of Hainan Province as a special economic zone. The experience of the College in obtaining such a big success in education reform is worth summing up." Education can change the fate of the younger generation, and colleges and universities are the place to make their dreams come true. Hundreds of thousands of young people are stepping into Sanya College. The brand-new concepts of growth will arouse these students' interest in and passion for study, and valuable qualities are cultivated to accustom them to the progress of society and the development of advanced culture. They enjoy the genuine fun of learning, achieve self-motivated growth, and are better equipped for society in the future.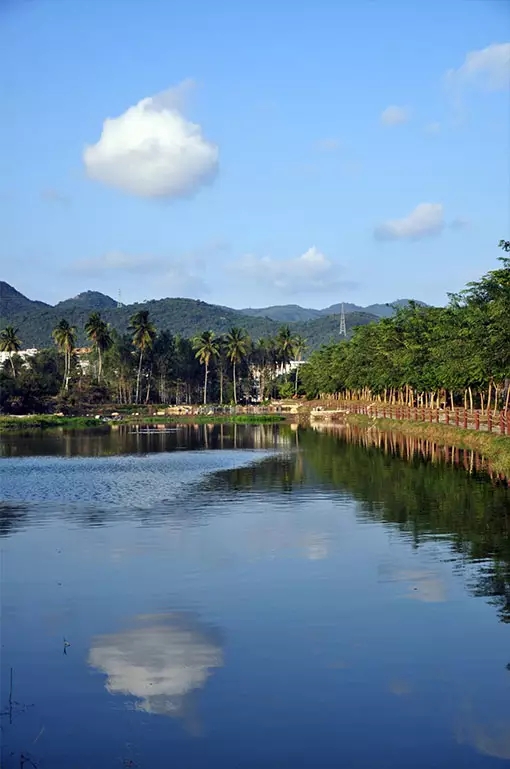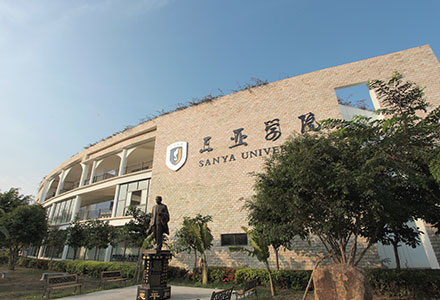 English Teachers Number required: 1-2 Posts
Contract Period: 1st Mar, 2023 - 15th Jan, 2024
1st Sep, 2023 - 15th Jul, 2024
Requirements: BA and TESOL /TEFL. Some teaching experience preferred
Monthly Salary: 10,000 RMB
Teaching hours: 16-20 hrs per week
Age of students: college student
Number of days off per week: Two (2) days. All public holiday;
Medical Insurance: Medical care for foreign teachers in accordance with China's medical system. The school will provide teachers with a basic medical insurance and accident insurance .
Accommodations: Private apartment, it includes private bedrooms, full set of furniture. Washroom. Color TV with cable. Air-conditioner. Telephone . Washing machine. Shower. Microwave. 24 hour Free hot water supply. Internet access at the apartment.
Internet access (Free): computer with internet access in the apartment
Closest Airport: The teacher will be picked up by the school on arrival and transported to the airport on departure.
Working visa: Invitation letter will be mailed to teacher to process work visa in his/her own home country before departing for China. Teachers already in China will be assisted in switching over to the university.
Air-ticket: The school will reimburse the teacher round-way airticket on completion of the contract.